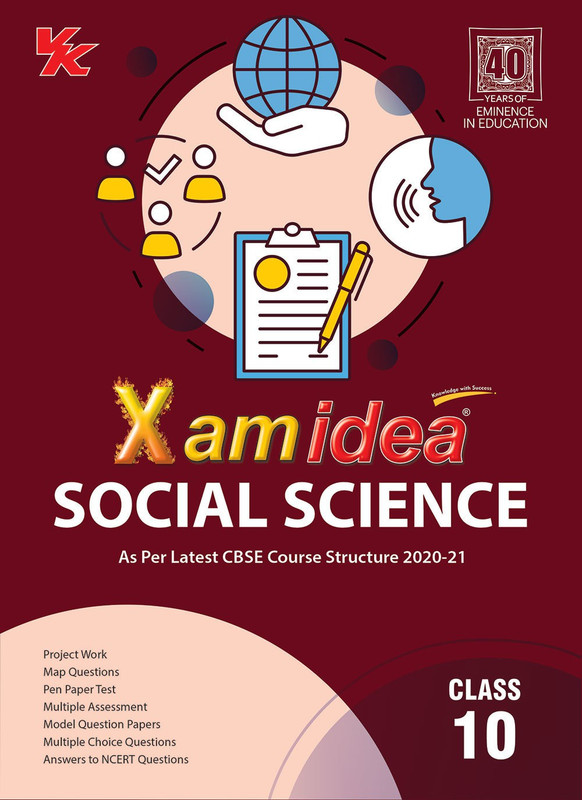 Xam Idea Social Science - Class 10- Cbse First Edition(English, Paperback, unknown)
Publsher:

VK Global Publications Pvt. Ltd.
ISBN-13: 9789389975291 | ISBN-10: 9389975298
Share the book with your friends:
Book brief
"THE NOTABLE ASPECTS OF THE BOOK ARE AS FOLLOWS: The book is divided into four subjects – History, Geography, Political Science and Economics. Each chapter begins with a flow chart explaining the basic concepts. All chapters consist of NCERT Solutions in a separate section 'NCERT Corner'. Objective type questions include – . Multiple Choice Questions . Fill in the blanks . True and False . Sequencing questions . Correct and Rewrite questions . Assertion-Reason questions . Source based questions Very short, Short and Long Answer questions based on latest CBSE guidelines. HOTS (High Order Thinking Skills) are given to think creatively, critically and innovatively. Evaluate yourself through the Self-Assessment Test given at the end of every chapter to enhance your learning process. Three Periodic Tests consist of Pen Paper Test and Multiple Assessments ,which are given as part of the internal assessment. Five Model Test Papers (solved and unsolved) are provided for practice for final examination.